Director, IEE
Professor, Electrical & Computer Engineering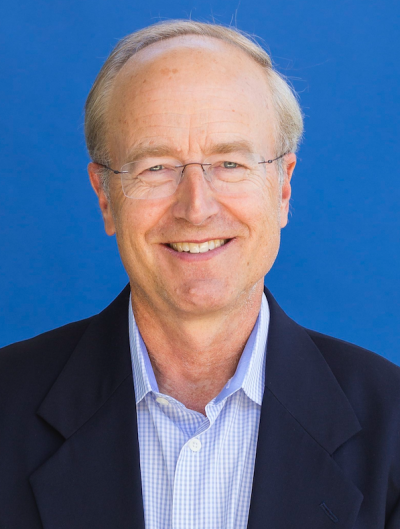 Research
John Bowers is interested in energy efficiency and the development of novel low power optoelectronic devices for the next generation of optical networks. His research interests include silicon photonics and integrated circuits, fiber optic networks, thermoelectrics, high efficiency solar cells, and optical switching. Optical switches have the potential to reduce the energy required to switch data by factor of 10,000. Silicon photonics have the potential to reduce the energy require to transmit data on and off chips by a factor of ten or more. A recent collaboration with Intel led to the development of hybrid silicon lasers, which led to a prototype 50 Gbps high-speed optical data link, which is integrated onto silicon.
Affiliations
Institute for Energy Efficiency, Director
American Institute for Manufacturing (AIM) Integrated Photonics, Deputy Director
Silicon Photonics Center, Director
Interdisciplinary Center for Wide Bandgap Semiconductors, Member
Solid-State Lighting & Energy Center, Member
National Academy of Engineering, Member
Biography
John Bowers is the Deputy Chief Executive Officer of the American Institute for Manufacturing (AIM) Integrated Photonics. John focuses on developing the West Coast portion of AIM and on developing integrated lasers onto the platform.  He is a Distinguished Professor in the Departments of Materials and Electrical and Computer Engineering at UCSB and holds the Fred Kavli Chair in Nanotechnology.  He is the Director of the Institute for Energy Efficiency. He is a cofounder of Aurrion, Aerius Photonics and Calient Networks. Dr. Bowers is a member of the National Academy of Engineering, National Academy of Inventors, a fellow of the IEEE, OSA and the American Physical Society, and a recipient of the IEEE Photonics Award, OSA Tyndall Award, the OSA Holonyak Prize, and the IEEE LEOS William Streifer Award.
Honors
2017 Central Coast Innovation Award
2015 National Academy of Inventors
2012 UCSB Faculty Research Lecturer
2012 OSA/IEEE Tyndall Award
2009 Kavli Chair for Nanotechnology
2009 OSA Nick Holonyak, Jr. Award
2007 ACE Award for Most Promising Technology
2007 IEEE Transactions on Components and Packaging Technologies Best Paper of 2006 Award
2006 Discover Magazine list of top 100 achievements
2006 PC World Technical Excellence Award for Best Semiconductor Technology
2005 National Academy of Engineering
2001 South Coast Business and Technology Entrepreneur of the Year
2002 Opitcal Society of America (OSA), Fellow
1996 American Physical Society, Fellow
1996 IEEE Leos William Streifer Award
1995 Board of Governors, IEEE Lasers and Electro-optics Society
1994 IEEE, Fellow
1992 IEEE, Distinguished Lecturer
1988 NSF, Presidential Young Investigator
Education
B.S.: Physics, University of Minnesota (1976)
M.S.: Applied PHysics, Stanford University (1978)
Ph.D.: Applied Physics, Stanford Univeristy (1981)
Postdoctal Researcher: Ginzton Laboratory, Stanford University (1981-1982)
More Info
John has published eight book chapters, 450 journal papers, 700 conference papers and has received 52 patents.
Contact
bowers@ece.ucsb.edu
Office Phone:
805-893-8447
Office Location:
3005 Henley Hall UC Santa Barbara Santa Barbara, CA 93106-5160
Lab Websites
IEE Research Areas