Professor
Electrical & Computer Engineering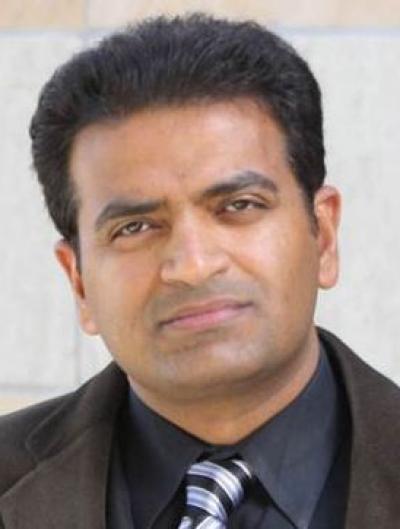 Research
Kaustav Banerjee's current research interests include nanometer-scale issues in VLSI (very large scale integration) as well as circuits and systems issues in emerging nanoelectronics. He is also involved in exploring the design and fabrication of various nanomaterials for ultra energy-efficient electronics and energy harvesting/storage applications. Together with colleagues at the Greenscale Center for Energy-Efficient Computing, he researches emerging technologies for energy-proportional computation, where energy efficiency remains high regardless of the load on a server.
Affiliations
California NanoSystems Institute (CNSI), Affiliated Faculty
Greenscale Center for Energy-Efficient Computing, Member
IEEE/EDS GOLD Committee, Member
IEEE/EDS VLSI Circuits and Technology Committee, Member
Biography
Kaustav Banerjee is a Professor of Electrical and Computer Engineering and Director of the Nanoelectronics Research Lab at UC Santa Barbara. He is also an affiliated faculty member with UCSB's California NanoSystems Institute (CNSI). Prior to joining UCSB, he was with Stanford University (1999-2001) as a Research Associate at the Center for Integrated Systems with joint appointments from the EE Department and the Thermosciences Division of the ME Department. He has also held research/visiting positions at Intel's Circuit Research Labs, Hillsboro, OR (2002); Ecole Polytechnique Federale de Lausanne, Switzerland (2001); and Texas Instruments, Dallas, TX (1993-97).
His research has been chronicled in over 200 journal and refereed conference papers and he has delivered over 100 invited talks, panel/keynote speeches, and seminars at major international meetings and institutes around the world.  He has co-authored several book chapters and co-edited a book titled Emerging Nanoelectronics: Life with and after CMOS (Springer—Verlag, 2004).
Honors
2008 IEEE Electron Devices Society, Distinguished Lecturer
Education
PhD: Electrical Engineering & Computer Sciences, UC Berkeley (1999)
Contact
kaustav@ece.ucsb.edu
Office Phone:
805-893-3337
Office Location:
4151 Harold Frank Hall
University of California, Santa Barbara Santa Barbara, CA 93106-5080
Lab Websites
IEE Research Areas