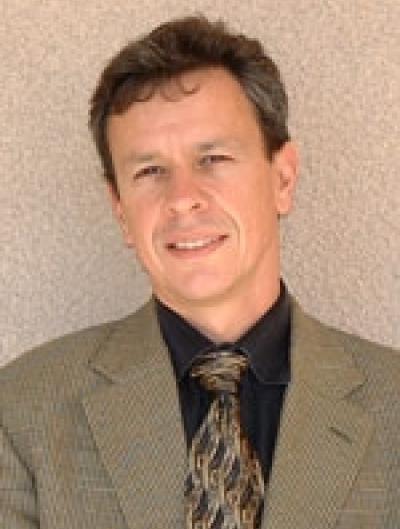 Research
Gui Bazan's research interests include synthesis of organic molecules with architectures that optimize optoelectronic performance and photophysics of conjugated organic solids. He applies these interests to the development of higher efficiency organic "plastic" solar cells by using an interdisciplinary approach to identify the limiting factors in solar cell performance. Specific research applications include investigating the effects of incorporating metal nanoparticles with organic devices to improve the efficiency of emitting devices and solar cells, and using conjugated polyelectrolytes to develop new fabrication methods for optoelectronic devices, such as organic LEDs and solar cells. Additional research interests include understanding the electronic delocalization between organic chromophores in the solid state, the design of biosensors based on light-harvesting macromolecules and oligomerization and polymerization reactions of olefins using well-defined organometallic catalysts.
Affiliations
Center for Polymers & Organic Solids Co-Director
Center for Energy Efficient Materials Member
Mitsubishi Chemical Center for Advanced Materials Member
Biography
After working at Caltech as an NSERCC postdoctoral fellow, he started his academic career in the Chemistry Department at the University of Rochester in 1992. In 1998, Bazan joined UC Santa Barbara as a Professor of Chemistry and in 1999, he joined the faculty of the Department of Materials (Engineering). In June 2000, he became the Director of the Center for Polymers and Organic Solids.
Honors
2005 Humboldt Foundation Bessel Award
2003 NSF Special Creativity Award
1998-1999 Union Carbide Innovation Award
1997 University of Chicago Closs Lecturer
1996-1998 Camille and Henry Dreyfus Teacher-Scholar
1996-1998 Sloan Research Fellow Award
1995-1998 NSF CAREER Award
1992-1993 Dreyfus New Faculty Award
Education
BS: University of Ottowa
PhD: Massachusetts Institute of Technology
Contact
bazan@chem.ucsb.edu
Office Phone:
805-893-5538
Office Location:
2512 Physical Sciences Building North
University of California, Santa Barbara Santa Barbara, CA 93106-5080
Lab Websites
IEE Research Areas