Professor
Electrical & Computer Engineering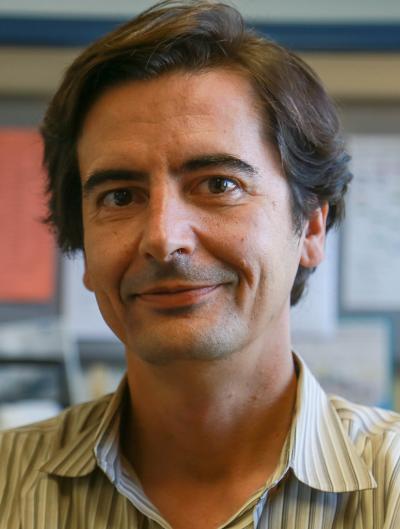 Research
João Hespanha's current research interests include hybrid and switched systems; the modeling and control of communication networks; distributed control over communication networks (also known as networked control systems); the use of vision in feedback control; and stochastic modeling in biology. One application of his research focuses on airflow and control algorithms for optimizing the flow and mixing of forced air cooling in computational facilities for greater energy efficiency.
Affiliations
Center for Control, Dynamical Systems and Computation, Associate Director
Center for Energy Efficient Design, Member
Greenscale Center for Energy-Efficient Computing, Member
Biography
From 1999 to 2001, he was an Assistant Professor at the University of Southern California, Los Angeles. He moved to UC Santa Barbara in 2002, where he currently holds a Professor position with the Department of Electrical and Computer Engineering. Hespanha is Associate Director for the Center for Control, Dynamical-systems, and Computation (CCDC), Vice-Chair of the Department of Electrical and Computer Engineering, and a member of the Executive Committee for the Institute for Collaborative Biotechnologies (ICB). From 2004—2007 he was an associate editor for the IEEE Transactions on Automatic Control.
Honors
2009 Ruberti Young Researcher Prize
2006 George S. Axelby Outstanding Paper
2005 Best Paper, International Conference on Intelligent Sensing and Information Processing
2005 Best Paper, Automatica Theory/Methodology
1998 Henry Prentiss Becton Graduate Prize, Yale Unievrsity
2001 NSF CAREER Award
2008 IEEE Fellow
Education
PhD: Electrical Engineering & Applied Science, Yale University (1998)
Contact
hespanha@ece.ucsb.edu
Office Phone:
805) 893-7042
Office Location:
5157 Harold Frank Hall
University of California, Santa Barbara Santa Barbara, CA 93106-5080
Lab Websites
IEE Research Areas