Professor
Materials, Chemistry and Biochemistry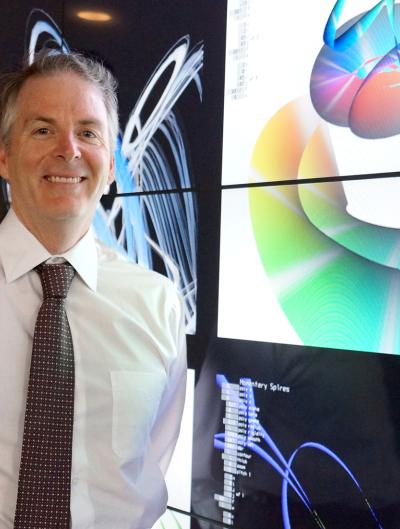 Research
Craig Hawker is interested in the interface between organic and polymer chemistry with emphasis on the design, synthesis, and application of well-defined macromolecular structures in biotechnology, microelectronics and surface science. Energy efficiency research interests include the use of nano-imprint lithography to create organic photovoltaics and the use of block co-polymer lithography nanotechnology to create smaller, faster and more efficient microprocessors. Additional research interests include macromolecular synthesis (thiol-ene dendrimers for "click chemistry," ketene functionality and hydrogel-based microarray systems) and polymer nanoparticle applications in drug delivery, medical diagnostics and therapeutics.
Affiliations
California Nanosystems Institute, Director
Dow Materials Institute, Director
Materials Research Lab, UC Santa Barbara, Co-Director
International Center for Materials Research, Steering Committee Member
Mitsubishi Chemical Center for Advanced Materials, Member
Biography
After completing a post-doctoral fellowship at Cornell University, he returned to the University of Queensland as a Queen Elizabeth II Fellow. Hawker came to UCSB in 2004 after eleven years as a scientist at the IBM Almaden Research Center in San Jose, CA. In addition to a variety of named lectureships, he is editor of the Journal of Polymer Science, Polymer Chemistry and a member of the editorial boards of several other journals. Hawker is also an Adjunct Professor of Chemistry at the University of Queensland and serves on the Scientific Advisory Board of Intermolecular Inc., Relypsa Inc., and Warwick Effect Polymers, as well as consulting for various multinational companies.
Honors
2016 National Academy of Inventors
2015 AAAS Fellow
2013 ACS Award in Polymer Chemistry
2012 Centenary Prize, Royal Society of Chemistry
2010 ACS Fellow
2010 Royal Society Fellow
2010 Macro Group UK International Medal for Outstanding Achievement
2008 DSM International Performance Materials Prize
2007 Mark Scholar Award, American Chemical Society
Education
BS: Chemistry, University of Queensland (1984)
PhD: Bioorganic Chemistry, University of Cambridge (1988)
Contact
hawker@mrl.ucsb.edu
Office Phone:
805-893-7161
Office Location:
3005 Materials Research Lab, 3450 Elings Hall
University of California, Santa Barbara Santa Barbara, CA 93106-5080
Lab Websites
IEE Research Areas